Welcome
Welcome to Nat Taylor Web Designs, offering forward looking web design that clients love for years and straight-forward web design services that solve clients' problems. As you browse our designs, learn about our services, read about us, please contact us if we can help you or if you have any questions. Remember, we serve primarily the Greater Boston area and pride ourselves on you and your users' satisafaction.
Designs
The following is a showcase of some of our favorite designs.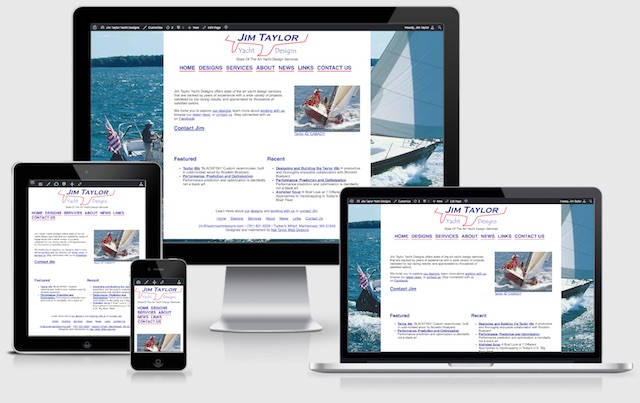 Jim's designs are featured with vivid photograph, line plans, specs, design summaries and reviews.
WordPress
Responsive
Social Media
---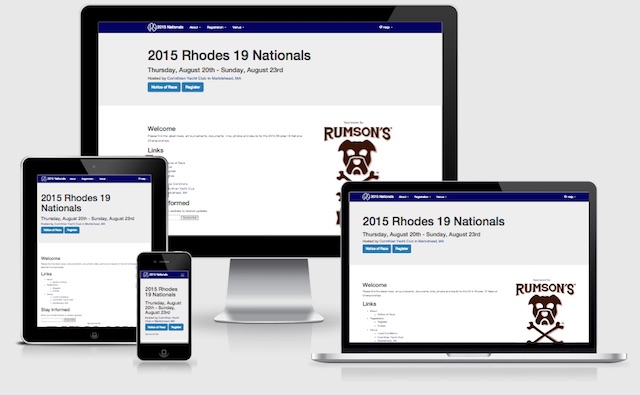 Designed to feature different content and calls-to-action as the event date approached while being extremely accessible and intuitive.
---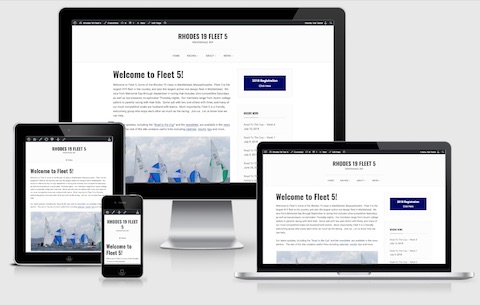 Serve's as a central location and archive for Fleet news, dates, photos and prose.
WordPress
Photo Galleries
---
Services
Our services include complete websites, website maintenance & updates and website consulting. Please contact us if we can help you or if you have any questions. Remember, we pride ourselves on you and your users' satisafaction.
Complete Websites
We sepecialize in complete websites involving design and development of both new sites and redesigns.
Website Maintenance & Upgrades
We also provide services to site owners in need of maintenance and upgrades.
Website Consulting
We consult on a broad range of website topics including search engine optimization (SEO,) content creation, social media strategy, multi-device (responsive) strategy, online marketing, web hosting, website software tutorials and more.
Working with Us
We pride ourselves on being a pleasure to work with by keeping our client load low and communicating clearly, concisely and frequently.
Case Studies
Our focus on client satisfaction has resulted in success over a broad range of designs.
Company Showcase for Jim Taylor Yacht Designs
Jim is a repeat customer who engages with us on an ongoing basis. We first designed his site for 56K modems, so the redesign goals were to showcase his designs with vivid imagery and increase organic search traffic. The result drove a ten-fold increase in search traffic and showcases more than 30 designs with descriptions, photography, plans and press coverage. It is a fast loading site that works on all types of devices built in WordPress, so that he can make changes.
Website Maintenance for Rhodes 19 Fleet 5 (Pro Bono)
Prior to being selected as the webmaster, we completed some website maintenance for Fleet 5 that involved a domain transfer, website migration (including database) and email migration -- of which went smoothly.
About
Nat Taylor Web Designs provides forward looking web design and services in Greater Boston.
Principal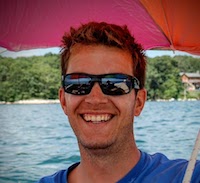 Nat Taylor is AdTech professional engaging in freelance web developer on the side. In his career he has served as a web developer, online marketer, product marketer and product manager all in the AdTech industry. Nat stays true to his Marblehead roots and is an avid sailor. He earned a degree in physics with minors in mathematics and computer science from Connecticut College.
History & Greater Boston Roots
Founded in Marblehead, MA in 2000, we now operate in Boston serving clients primarily in the Greater Boston Area. We have a long history of giving back, usually in the form of pro bono design and maintenance.
Philosophy
We strive to combine creativity, state-of-the-art techniques, accepted best pratices and attention to detail with the hope of achieving aestetics, usability and longevity so that site owners can pay a fair price today and get a site that is highly valuable for years to come and remains universally and indefinitely accessible.
Career Highlights
October 1997 — First typed <h1>Hello World!</h1>
June 2003 — Registered nattaylor.com
August 2003 — Chosen as Pleon Yacht Club webmaster
January 2004 — First installed WordPress
February 2006 — Chosen as NEISA webmaster
June 2007 — Typed rm -rf / and forever learned to backup
January 2008 — Internship at Pearse Street Consulting
February 2009 — Chosen as ICSA Semi-finals webmaster
September 2009 — Hired as Jumptap webmaster
November 2013 — Chosen as R19 Fleet 5 webmaster
January 2015 — Chosen as R19 Nationals webmaster
January 2017 — Chosen as R19 Nationals webmaster again, for that years' event
March 2018 — Chosen as Gove Street Citizens Association webmaster
Technical Skills
Nat is always learning and currently an expert with HTML, CSS, Javascript, PHP, MySQL, Bash, WordPress & Photoshop, and proficient with many other technologies..
About This Page
This page should load in well under 1-second on almost any device and any connection because it is a static file that includes just 4 resources for a total compressed size of 154KB, which is around 90%-95% smaller and faster than most sites. While it is a simple design, it showcases our core principle of forward-looking technology.
Contact
You can email Nat at nat@taylorwebdesigns.com about new or existing business and for support.